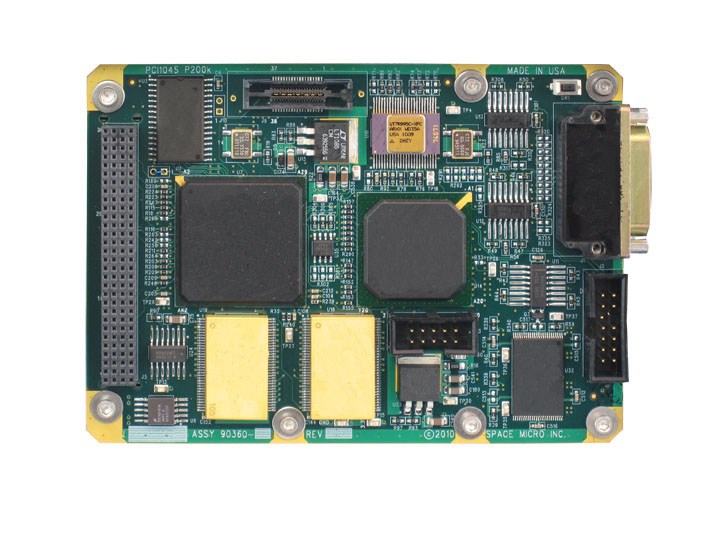 PROTON-200k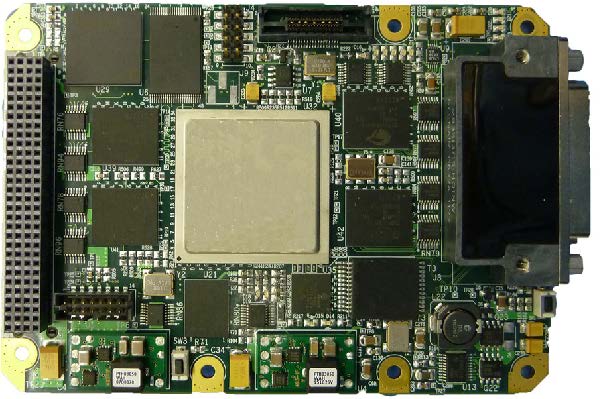 PROTON-300k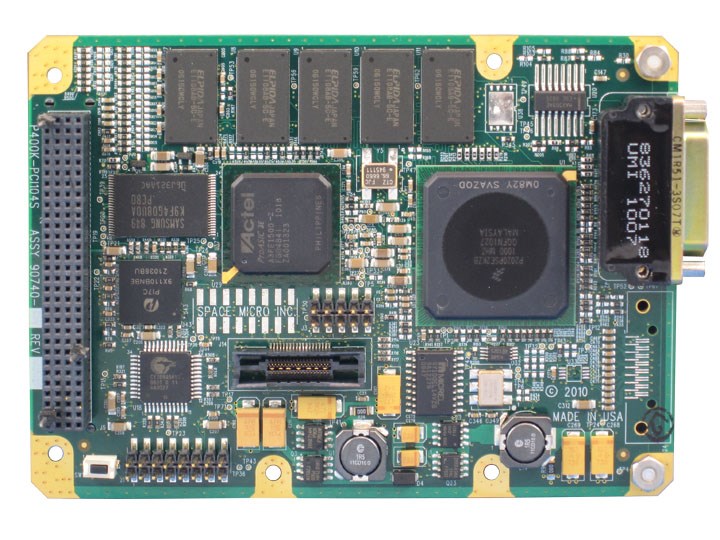 PROTON-400k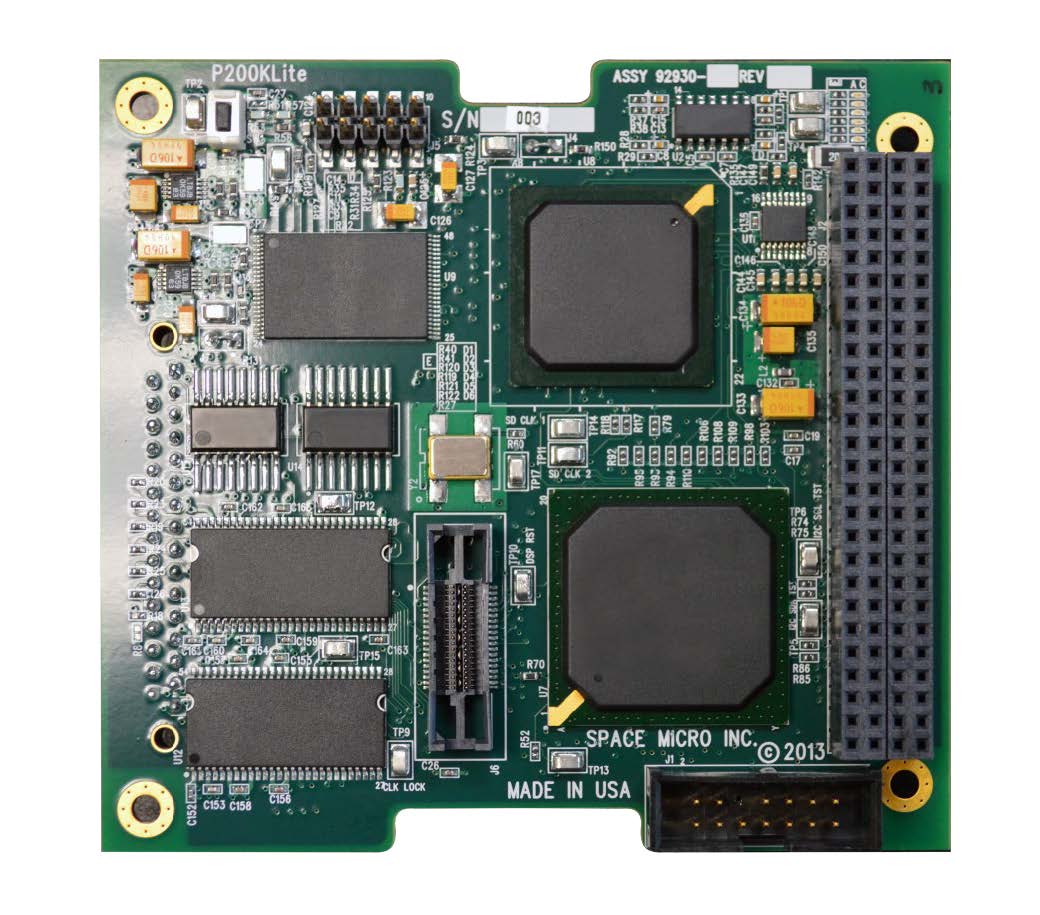 Proton200k-L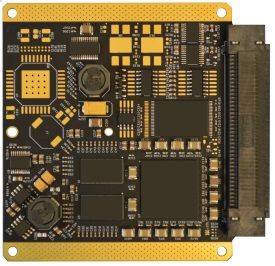 CSP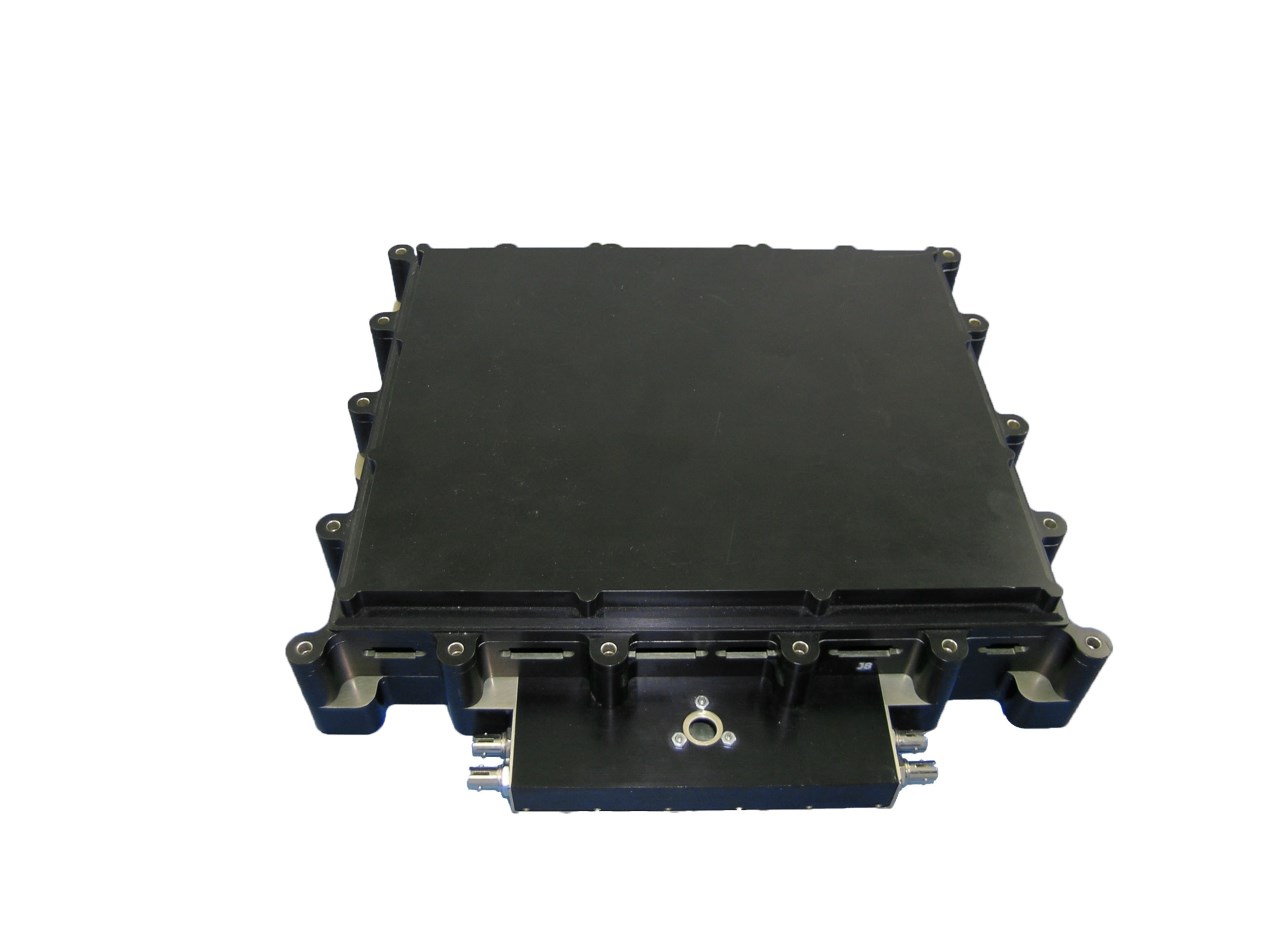 IPC5000/7000
 ATI provides flight proven, low cost, rad hard, high performance electronics (including computer boards, etc.) for LEO and GEO satellites. Uses Space Micro's patented Time Triple Modular Redundancy (TTMRTM) and Hardened Core (H-CoreTM) technology to migitage, detect, and correct radiation effects in space environments.

Major parameters of PROTON-200kTM DSP Processor Boards

Processor:
Fixed Point Version: TI 320C6XXX, 1GHz, 8,000 MIPS native

4,000 MIPS at 1E-4 unrecoverable errors/day
L1 32KB (16/16KB) Program/data Cache
L2 1MB (Cache/Mapped RAM, flexible allocation)
3 Timers, 32-bit
Floating Point Version: TI 320C6XXX, 300MHz, 1,800 GFLOPS native

900 MFLOPS/ 1,200 MIPS at 1E-4 unrecoverable errors/day
L1 8 KB (4/4KB) Program/Data Cache
L2 256KB (64KB Cache/Mapped +192KB Mapped RAM)
2 Timers: 32-bit
Power: 5-10 Watts (standard board), full speed
Memory: 128 MB to 32 MB SDRAM w/EDAC & 256 or 64 MB without EDAC
      1 MB EEPROM to 8 Mbyte (option),
      512 MB RH Flash (option)
Radiation Tolerance:  SEL > 63 LET (MeV-cm2/mg)
               SEU < 1 per 1,000 days (1.0 E-4, 90% W.C. GEO, Orbit
                    dependent)
               TID > 100krad (Si), Orbit dependent
               SEFI 100% recoverable
Operating Temperature: -24˚C to +61˚C
Interface: 32bit, 33MHz I/O bus
OS: TI Code Composer Studio

Major Parameters of PROTON-300kTM FPGA Reconfigurable Computer

FPGA: Xilinx XC5VX155T using either

Xilinx Platform Flash Memory (Engineering Model)
Rad Hard TMR Flash (Flight Model)
2 Channels LVDS Video
SGMII Gigabit Ethernet, 10/100/1000 BaseT Interface
SDLC IMU via RS422 Interface
Four 4M X 18 QDR2 + SRAM 200MHz (currently operating at 180MHz)
32 bit, 33/66MHz PCI-104 Interface (currently operating at 33MHz)
Memory: 8GB radiation hardened flash memory
Operating Temperature: -24˚C to 61˚C
Power: ≈ 5-7 W for DSP, FPGA is dependent on configuration
Radiation Tolerance: TID: > 100krad (Si)
              SEFI: 100% recoverable
              SEU: < 1.0E-4 unrecoverable errors per day
              SEL: Immunity at >63 LET (MeV-cm2/mg)

Major Parameters of PROTON-400kTM Single Board Computer

Freescale 2020 high performance processor
1 GHz, 32-bit (per core) dual core processor with 36-bit physical addressing
Integer
< 1 per 1,000 days (1E-4 errors/day SEU rate, 90% W.C. GEO, Orbit dependent)
>100 krad (Si) total dose tolerance
Single Event Latchup (SEL) Immunity >63 LET (MeV/mg/cm2)
32 KByte instruction & data cache/core
512 KByte L2 cache
128 to 512 MB DDR 3/2 with EDAC
1 MB EEPROM
32 Gb radiation hardened flash
Power: 8 - 12 watts (depending upon peripherals, speed)
Compact PCI 3U/6U/PCI-104S or custom
Interfaces: 32 bit, 33MHz I/O bus
OS: Linux Board Support Package (BSP) or VxWorks BSP
Operating Temperature: -24˚C to 61˚C

Major parameters of PROTON-200k-LTM Lite DSP Processor Boards for CubeSat

Processor:
Fixed Point Version: TI 320C6XXX, 1GHz, 8,000 MIPS native

4,000 MIPS at 1E-4 unrecoverable errors/day
L1 32KB (16/16KB) Program/data Cache
L2 1MB (Cache/Mapped RAM, flexible allocation)
3 Timers, 32-bit
Floating Point Version: TI 320C6XXX, 300MHz, 1,800 GFLOPS native

900 MFLOPS/ 1,200 MIPS at 1E-4 unrecoverable errors/day
L1 8 KB (4/4KB) Program/Data Cache
L2 256KB (64KB Cache/Mapped +192KB Mapped RAM)
2 Timers: 32-bit
Power: 1.5 Watts
Memory: 512 MB SDRAM w/EDAC
      1 MB EEPROM to 8 Mbyte (option),
      8 Gb RH Flash (option)
Radiation Tolerance:  SEL > 63 LET (MeV-cm2/mg)
               SEU < 1 per 1,000 days (1.0 E-4, 90% W.C. GEO, Orbit
                    dependent)
               TID > 100krad (Si), Orbit dependent
               SEFI 100% recoverable
Interface: 32bit, 33MHz I/O bus
OS: TI Code Composer Studio (option)
   TI DSP/BIOS RTOS (option)
   JTAG debugging support

Major parameters of CubeSat Processor (CSP) Board

Processor: Xilinx Zynq-7020

2.5 DMIPS/MHz per CPU
CPU frequency: ≦1 GHz
I/O: 26 x MIO (Multiplexed IO), 60 x HR Select IO (High Range Select IO)
** Not all interfaces can be used simultaneously
Power: <2.9 Watts
Memory: 32 GB NAND Flash
      4 GB DDR3 SDRAM (2 GB when EDAC is active)
Size: 1U (90x89mm)
Radiation Tolerance:  SEL: No Destructive Events
               SEU: Unmitigated - Same SEU rates as a commercial                      Xilinx 7 family Zynq part
               TID: 30krad (Si)
               SEFI: Mitigated with watchdog for ARM Cores
OS: Wumbo GNU/Linux
Operating temperature: -20 deg C to +70 deg C

Major Parameters of IPC5000/7000TM Image Processing Computer

The IPC5000/7000TM image processing platform is a three board set (Single Board Computer (SBC), Solid State Buffer, Image Processing Computer(IPC)) that combines high performance, low power radiation hardened computing and high-speed mass memory to meet the challenges of the space imaging environments.

SBC:

Floating point DSP - 900 MFLOPS at 1E-4 unrecoverable errors/day
128 MB EDAC protected RAM
4 Gb rad hard flash memory
Programmable speed UARTs
1 Mbps synchronous serial ports
Variable power control
Solid State Buffer:

64 Gbit high-speed SDRAM
2 Gbps input data rate
Optional EDAC
IPC:

Dual input fibre optic input >1 Gbps
Virtex 5 or 7 FPGA processing with Reconfigurable bitmaps
Local RAM buffering
128 MB EDAC protected RAM
4 Gb rad hard flash
Gigabit Ethernet download output

Fibre optically coupled IF
LVDS option available

Embedded, image processing

Real-time 12 bit JPEG compression
Real-time non-uniformity correction
Multiple image channels
Channel formatting and packetization
Radiation Tolerance:

>100 krad (Si) total dose tolerance
Single Event Latchup (SEL) Immune >70 MeV/mg/cm2
No SEFI
SEU tolerance 1E-4 unrecoverable errors/day
Power: 40 watts worst case configuration (depending upon peripherals, speed)




Other boards are also available such as Standard SpaceWire boards, micro-GPS Receiver, ProtonX-BoxTM Avionics Suite, Proton2X-BoxTM Avionics Suite, Rad Hard Internet Protocol Encryptor, etc.
Please contact us for details of the above boards.